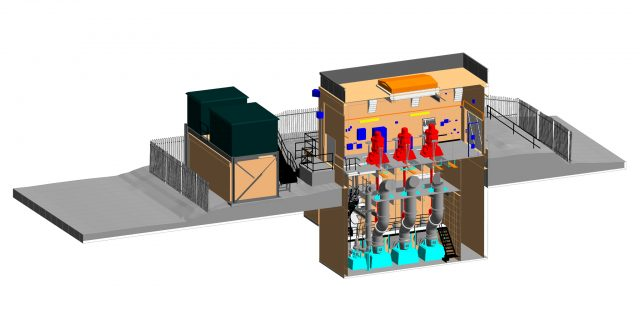 Using 2D drawings to develop plant layouts can make it hard to position machinery accurately, to visualize the space needed to safely operate and maintain equipment, and to communicate important operational information to non-technical stakeholders.
If you're looking to improve this error-prone process that can translate into unplanned downtime and expensive rework if not done right the first time, 3D plant and process design software could be the solution to avoid production delays and budget overruns. At Hive Virtual Plant, we can provide our clients with 3D factory mapping for plants located in the GTA, Ontario, and across Canada. Factory mapping has many practical benefits that range from calculating structural measurements to workflow planning. In this blog by Hive VP, we talk about 3D factory mapping for plant applications.  
For plant layouts
The plant layout solution allows engineers to create a 3D model-based virtual factory layout that contains all assembly tooling, facilities, equipment, workers, and robotics. Engineers can use a 2D drawing to position and manipulate these resources in 3D allowing for a user-friendly, fast, and efficient layout definition. Standard resources, like conveyors and shelving, can be parameterized and inserted onto the plant layout from a standard catalog. The resources placed on the plant layout are structured in the specification tree to feed downstream systems. Because this data is stored within a cloud software, the layout data is accessible to cross-functional teams and is up to date with the latest changes. This collaborative environment allows for the earlier discovery of issues with the plant layout.
For factory flow
3D factory mapping can be a great tool to establish factory flow, or correct factory flow issues. In industrial and manufacturing facilities, materials and products need to flow through factories with great efficiency to keep costs down and productivity up. That's one of the reasons factory owners are re-optimizing their floor layouts, moving things around, removing the old equipment, and adding new equipment. For example, automotive plants change things around every year to meet the manufacturing requirements of new car models. Over time, all these changes can lead to a poor understanding of what is actually on the factory floor, where these assets are located, and how much space they consume in three dimensions.
At Hive Virtual Plant, you can utilize our technology for 3D factory mapping. Partnering with Leica Geosystems gives us access to industry-leading 3D laser scanning equipment that can be used for factory and plant applications. For 3D factory mapping in Ontario, the GTA, or in Canada, consider Hive VP today.
Click here to find our contact information or to speak with a Hive Virtual Plant representative.   
Click here to get more information about our services at Hive Virtual Plant.