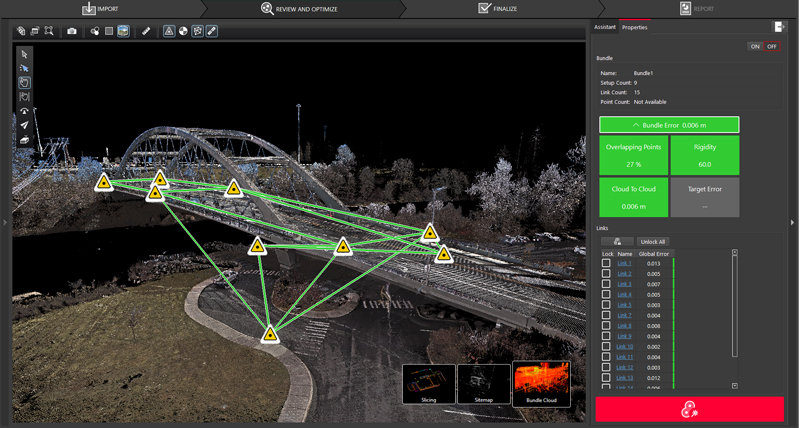 The Leica Cyclone Software
Leica Cyclone is the market-leading point cloud processing software. It is a family of software modules that provides the widest set of work process options for 3D laser scanning projects in engineering, surveying, construction, and related applications. At Hive Virtual Plant, we work very closely with Leica Geosystems in order to provide our clients with the highest quality 3D laser scanning and point cloud technology. If you operate a plant anywhere in Ontario or even our great country of Canada, and you are planning on adding or subtracting to your plant or factory, then 3D laser scanning technology can greatly benefit you. Along with our laser scanning and point cloud software technology services, at Hive VP, we are also in the business of providing the public with interesting and informative content about the industry as a whole. That's why in this blog, we share some information about Point Cloud Software, but not just any software, the Leica Cyclone 3D Point Cloud Processing Software. Read on for more information! 
Click here to learn more about our services at Hive Virtual Plant.
For plants that need to add point cloud data
For organizations that need to add point cloud data to their process, Leica Cyclone is the only solution that can create all of the deliverables you need. Unlike other scanning providers, this product efficiently delivers on the entire set of project requirements; which ensures your organization's profitability. The Cyclone family of products is a key part of the complete solution. The various Cyclone modules take users from start to finish for every type of point cloud project.
There are modules and functions for every nearly every application
Leica Cyclone Software consists of individual software modules for different needs and for flexible product deployment. There are modules to take advantage of the unique Leica Geosystems laser scanners field data collection operations, such as traverse, back-sight, and resection as well as Visual Inertial System links created by the Leica RTC360 for rich survey-grade collection and registration of data. This includes wizard-like automation routines that do all the work for the user as well as the industries richest set of QA/QC and survey adjustment and analysis tools.
There are other modules dedicated to generating a vast array of deliverables from reports to maps and 3D models, movies/animations, and lightweight 3D data formats that can be distributed freely over the web. These modules support a wide range of industries and workflows including civil engineering, as-built 3D models, topographic surveys, BIM models, and much more.
Makes it easy to manage data efficiently
At Hive Virtual Plant, the technology that we utilize is meant to provide total convenience and minimal plant operations downtime. The rich data inherent in 3D point clouds represents a major advantage over other sources of geometric information. Cyclone's unique Object Database Client/Server software provides the highest performance environment for laser scanning projects. Cyclone makes it easy for users to manage data efficiently in databases by working concurrently, thereby reducing the need to copy and/or transmit large point cloud project files.
At Hive Virtual Plant, we work hand-in-hand with Leica Geosystems to provide our clients with high-quality 3D laser scanning technology for their plants. If you are looking for more information about Leica Cyclone Software, or about any of our equipment and services at Hive VP, then we encourage you to continue browsing through our website. 
Click here to find our contact information or to speak with a representative.