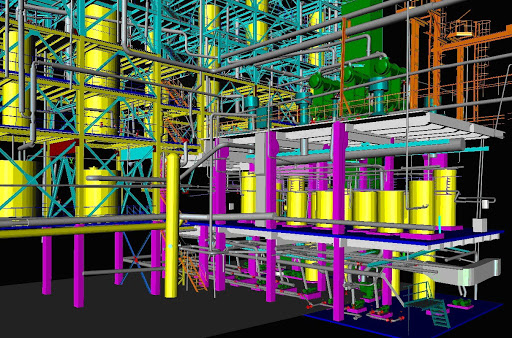 Using 3D laser scanning technology for construction
Laser scanning, also called high definition surveying (HDS), is a method of high-accuracy mapping or reality capture that uses laser beams to quickly capture complete detail of the entire building construction project, much like a camera taking a 360-degree photo, but with an accurate position for every pixel. Commonly applied in the construction and maintenance of industrial plant facilities, laser scanning has since been adopted for many other uses, including building construction and building information modeling. At Hive Virtual Plant, we provide companies with high-end 3D laser scanning technology by Leica Geosystems. In this article, we share some information about using 3D laser scanning technology for construction. 
Click here to learn more about our services at Hive Virtual Plant. 
3D laser scanning for new construction
Laser scanning can be deployed in many places in a new construction project to aid the BIM process. For example, scanning all components as they are installed can provide a time-lapse record with millimeter accuracy data on the pipes, HVAC, structural steel, floors, and rebar in the concrete slabs throughout the building along with the actual installation date. This information can be compared to the design to verify that all components are installed in the correct place. If any errors are discovered, the design can be revised so that new components can be altered in the fabrication process instead of making costly changes onsite. 
3D laser scanning for renovations 
For renovations or additions to an existing structure, drawings are often extremely out of date or simply don't exist. This makes designing any type of renovation or addition difficult. The laser scanner locates whatever it sees and "freezes" the site in time in its current form. This data then can be brought into CAD packages and used to develop extremely accurate existing condition drawings. Once these documents are created, laser scanning can continue to add value by capturing construction milestones and providing quality assurance as the project progresses. 
Today's construction industry is characterized by shorter building cycles, shrinking budgets, and growing expectations for accurate data on demand. Although this situation presents numerous challenges for contractors, it also creates tremendous opportunities for companies that wish to differentiate themselves in an increasingly competitive market. At Hive Virtual Plant, we take great pride in the 3D laser scanning technology and software that we provide to our clients. 
If you are looking for more information about the possibility of using 3D laser scanning technology for construction at your company, then we encourage you to get in touch with a representative at Hive Virtual Plant today! 
Click here to find our contact information or speak with a representative at Hive VP.